---
Day 17
We got up shortly after sunrise with a mild day ahead of us. Our destination for the day, Slowensky Raj, a somewhat famous national park, was not far away and we had little elevation to cover. Unfortunately it got pretty hot pretty soon. After a delicious but heavy lunch we desperately looked for a shady spot to lay down.
We found it under some trees, overlooking a beautiful landscape.
Sleeping proved almost impossible though since that spot was so incredibly alive that we had to observe a wild array of crawly creatures. It is really amazing and to see how much richer the flora fauna got the further we moved east. Its also sad considering there are hardly any places like that left in Germany.
After a beautiful and mellow ride we eventually arrived at the campsite next to Slowensky Raj.
We got the sense that the area might be quite heavily touristified, but it still was pre-season, so there were not too many people. We met Mandy a solo cyclist from Leipzig who was in her first weeks of a yearlong trip.

We pitched our tents, made fire and food and emptied a few beers before calling it a day.
---
Day 16
The morning uphill felt terribly long and heavy. I dont think my legs ever burned so badly before.
 Jerome took off quite a bit and I missed the turn to the cable car. With no sign and me not checking Komoot properly I went up the mountain way further than necessary to another cable car station which was obviously defunct.
After Jerome called to ask where I was and we realized I had quite a fun downhill back to where I was supposed to be. I arrived there 1 hour after him
Despite the sceptical looks and comments that we got from people we decided to we decided to take the bikes up with us.
The view on top was splendid! We walked the trail for about 1h, even though we realized already after 10min that it would be foolish to try it with our heavily packend gravel bikes.
I am fully determined to try it on a MTB as soon as possible. With a light backpack and the bare necessities it should be quita a lot of fun.
On the way back we saw a mountain goat.
Back at the cable car station we discussed a change of route over a hearty soup.
We decided to ride down the north side of Chopok since there seemed to be a managable trail going down the mountain. Going back down the south side would have felt too much like a defeat.
What awaited us would have been challanging on a fully, on our bikes it was beyond gnarly. The trail was covered in mostly loose rocks, big and small. To make things more interesting we had to cross sections of snow as well.
Jerome decided to walk it at the beginning but even that was not easy. I took it as a challenge and was able to ride it for the most part but it felt like a permanent state of almost crashing. And I did twice. Luckily with no consequences.
Further down we met a guy on an E-fully who we helped out fixing his flat. We were both surprised that our bikes survived this material murdering trail, especially the wheels.
Back on tarmac we blasted down a very nice road, overtaking cars and marvelling at the landscape.
After a stop at a gourmet food store we rode on. We had to stop pretty soon though because I realized I did not eat enough throughout the day and I started to bottom out. After a coffee and some snacks we rode on until we found a chill riverside spot to set camp for the night.
We made a fire and ate up all the delicasies from the store. Another amazing day coming to an end.
---
Day 15
I took 2 ibuprofen after breakfast which dimmed down the pain enough to decide to go for the big climb. We were still not sure if it even would be possible worryingly steep part.
First we followed a forrest road that was designated as a bike path. The path passed by an old abandoned water bottling plant / spa which we inspected of course. What an eerie place! It looked like it was abandoned in a rush..even paperwork was still laying around! We also drank from the springs that were still accessible.
Komoot fooled us once again as we took a turn that became a dead end. Way too steep and overgrown.
We decided it would be worth trying another way. The leg seemed to play along.
The uphill took us on a forrest trail that gradually became brutally steep as well and was riddled with rocks and roots. I was hardly able push the bike anymore when we reached a point where it started to get even steeper! No chance, we had to admit defeat.
After (mostly) riding back down while melting our brake pads we decided to continue on the bike path and follow another one along the mountain side.
It turned out that in Slowakia a designated bicycle path can easily turn into a gnarly downhill trail..
very steep, rocky, rooty and generally a nasty piece of work.
I have to commend Jerome for riding all of it..with little experience, on a packed CX bike..not easy.
Being more of a riser-bar / MTB guy it was also quite new for me. I had to grab the handle bar in the low position in order to be able to brake adequatly...terrifying to ride down such a trail in this position. But also fun :)
After checking out another soviet era memorial and an abandoned hotel we decided to sleep another night indoors and checked into a hotel.
Over a goodnight beer we decided that we would give the crest trail another try by taking the cable car up Chopok Mountain and try to ride from there.
---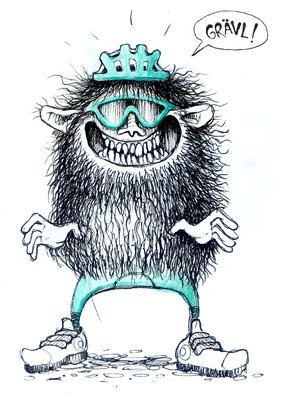 Day14
We checked out the village of Donovaly..rather superficially though. Is seemed to be a place completely dominated by skiing tourism, but obviously in off-season.
We decided to just rest and try to think about our next steps.. we had planned to ride a trail on top of the lower Tatras. From all the material I could gather online it seemed rideable. But! After the ordeal that we had to endure the day before we became sceptical of the route proposed by Komoot.
A few sections seemed to be very steep.
I decided to ride out and try to get a good old paper map. After having aquired one without a problem I rode back. When I entered the courtyard of our guesthouse I slipped on the wet grass and crashed into our hosts veggie garden. No veggies were hurt, but my left thigh hurt quite badly and turned blue quite fast. No need to mention that my ego took some bruising as well.
Heavily limping I entered our appartment. Jerome was way too amused about my mishap. Well I would have been too.
I grew increasingly worried if I would be able to make the climb onto the trail with my hurting leg.
After lighting up the fireplace we sat down to study the map. Unfortunately it did not really enlighten us. I put some more wood on the and spent the evening with sketching and listening to podcasts.
I did not take any pictures that day..hence..there is only a sketch I did while listening to the crackling fire.
Its Kevin, the Gravlin!
---
Day 13 & 14
We left pretty late again because we planned only a 45 km ride as a tryout for the Tatras
It started nice and mellow along a little creek, mostly on dirt and gravel.
As we got into the woods it gradually got steeper. As shown on Komoot. As we kept on it became unridable though, we had to get off the bikes and push.
Slippery leaves, rocks and roots did not make things easier. Then we encountered a section where multiple fat trees layed across the trail. We had to lift our bikes over them in teamwork. Really exhausting, but we were still laughing.
And we kept on.
Because we thought it would have to be over soon..
According to Komoot we estimated it to be less than 2km before it went downhill again
That was indeed about right.
But..our good mood gradually vanished with every meter. It took us more than 3 torturous hours to cover that distance!
At some point I had to unload my bike because it became so steep and overgrown that it was hard to even just walk, let alone push 35ish kg of bike up there. I carried my panniers and water bottles to the top, Jerome pushed through with his bike loaded. We then both went back down to fetch my bike.
After this massively exhausting episode we still had a 3h uphill to conquer. Most of it was rideable, but some was too steep.
We were rewarded with a breathtaking landscape, a spectecular cloud scenery and a feeling of deep bliss. Words and pictures can only fall short to describe it.
We ate some peanut butter on top of Krizna mountain, next to a radar station that looked like the lair of a fictitious super villain.
The peanut butter was a welcome and necessary source of power. Because what followed was a downhill stretch that would have been fun on a fully, on our gravel bikes it was pretty scary. Especially for Jerome who had little offroad experience. It was a steep mix of wet grass, mud and the occasional rock.
Nonetheless we rode it all without crashing and after leaving the rough patch behind the trail turned out really nice and flowy. When we arrived in Donovaly it took us a while to find a guest house. But when our host poured us a shot of slivovica as a welcome and lit up the fire place we knew we were in the right place. It smelled just like at my grandmas house back in Romania!
---
 Day 11 & 12
We saw a tank factory with fortified walls when leaving town. Interesting.
Our uphill fitness seemed to get better but generally we felt a bit exhausted.
Once again we sucessfully outran some bad weather.
We passed through a eerie little village with evident german influences and an ensemble of weird sculptures and scarecrows.
My knee pain suddenly reappeared after shaking my leg a bit too wildly.
We decided that we sould take a break before attempting to climb the lower Tatra trails.
The camp ground we first stopped at proved to be in a lousy state, creepy and close to a noisy road.
So we just had a beer there and kept on rolling until we found a lovely little guest house run by a sweetheart of an elderly lady. We went to bed pretty early.
The next day we slept in and decided to have a full on resting day.
We bought ingredients for a BBQ and made it an epic one! After this feast we spent the rest of the day laying down. Both of us constantly dozed off while trying to read or listen to podcasts
During all this it rained so much that riding would not have been fun anyway.
Good timing once more.
---
 Day 10
It seemed like we got slower to start every morning..I caught myself feeling impatient..and wonderedI why is that ?
This seemed to be our pace, so let it be, no need for rushing.
We had to start the day with a brutal uphill. But it was rewarded with an intense downhill rush! With my rack secured and the general setup working well I now felt more secure to go faster than earlier into the trip.
We had a water refill, ziptie restock and a nice chat at a local bike shop, evidently run by enthusiasts.
On a gravely downhill bit Jerome crashed into a bush for no apparent reason. Man and material were fine, we were able to laugh it off. We were both confused about why this happened. A short bit later I had to jump off the bike because it sunk into some mud.
We did a small detour to anti-fashist monument in Plostina and had lunch there. Meanwhile thunderous dark clouds were approaching, luckily we were able to outrun them. We still got wet because it was hot and humid. We were sweating like animals.
Aditionally we fell victim to a Komoot fail. The topography diagram promised a day of low elevation but we were presented with a long and brutal uphill instead.
We both ran out of water by the time we were on top of the climb, somewhere in the woods.
Jerome went ahead as he pushed harder uphill and felt dehydrated. I chose to rest for a bit before continuing.
The downhill that awaited me was absolutely insane and made me forget about my exhaustion!
A forrest road with perfect, fresh pavement and a steep incline! Unbelievable sensation to blast through the woods on a narrow road like that! I tried to contact Jerome in order to meet up but there was no reception. I wondered if I would have noticed him laying in a ditch while speeding through the woods.
A bit after surprisingly crossing into Slowakia I found him sitting next to a roadside spring refilling on water.
Amazingly a bunch of Salamanders were living in it! It is considered as a sign of extremely clean water. But besides that its just awesome!
A long, gentle downwards road took us to our destination of the day. With no good idea where to sleep Jerome suggested to check Air bnb.
We were lucky as only 2 options were at a sensible distance and the first one we contacted answered really fast.
Marian and his pitbull welcomed us on the 9th floor of a renovated soviet era building.
His Mom was visiting and made us some great soup and Bryndzové Halušky. Absolute soul food!
Also..a shower never felt so good!
After mom was gone our host put some weed on the table, we talked about our trip and his time in the UK until late at night.
---
 Day 9
It took us forever to get going and when we finally did our legs felt real tired. We dragged along through the heat, only interrupted by Icecream and Frappuchino.
Luckily the bike road was great. I was not aware of this before but I would say Czech Republic is way ahead of Germany in terms of bike infrastructure.
We saw lots of dead mice on this day. Without exageration..about 1 every 5m. No idea why.
Realizing that we are not on top of our game, we decided to try to call it a day early and look for a chill lakeside spot.
In order to save some time and km we illegaly crossed a dam. Getting on it was easy, in order to get off was a bit harder. We had to unpack the bikes and lift them over a gate.
The search for our spot turned into a 2h long shit show.
This was because the lake shore proved to be very inaccessible, the forrest road was in parts unridable, dug up by deep tractor tracks and the place was mosquito-infested.
After all the hardship we were still rewarded with super cozy spot.
We lit a fire, prepared a savoury dinner and went to sleep.
---
Day 8
We had a nice start after having breakfast in the beautiful lakeside yard of somebodys cabin. When we were already packing up the owners of the neighbouring cabin arrived but they were super chill and even spoke some german. After a friendly chat we carried on. We decided to replan the route for reasons I forgot. Possibly lazyness.
On the road we caught a glimpse of a dude with a Metal detector roaming the woods.
After a juicy lunch at a fancy local restaurant we took a nap in a park until a brief rain shower surprised us.
Later I had to pull out a tic out of Jeromes butt cheek. I guess that means we are closer friends now :D
After some fast and rattly downhills my knee gave me a pinchy reminder to take it easy.
When we arrived at the site where we were supposed to find a camp site, according to google, we had to realize that this information might have been outdated. There was only a public swimming pool that had not opened yet for the season and a bar.
We tried to talk to the owner, an old layed back dude. Verbally we could not communicate. But sign languade granted us beers and a free spot to camp for the night.
So we enjoyed those beers, made a cozy fire and enjoyed a late dinner before curling up in our tiny tents.
---
Day 7
We kicked off the day with savoury grandma style breakfast. Awesome!
And thankfully! Because we started with tired legs onto a brutal climb. We also felt a bit hung over.
So the first coffee pause came after 9.8km already. Earliest yet!
We were both very happy that I took the little Bialetti on the road.
I had to fix my first flat of this trip and we took the opportunity to have lunch.
Soon after that my front rack collapsed onto my tire after a bumpy gravel section.
This could have ended badly at high speed since there are 2 screws that could have ripped the tire wide open.
I had to loosen almost all screws to move it back up again. Then I secured it by linking it with my handle bar using zip ties. Thanks and praises to whoever invented them!
A weasle crossed the road right in front of us. Funny looking creature.
Also realized that some cuckoo bird had provided for a soundtrack every day so far.
We had to search for a sleeping spot for quite a while and found a sweet spot lakeside, basically in the backyard of somebodys vacation home.
The fire we made got rid of the mosquitos and Jerome took the opportunity to make some aglio e olio on it.
We ate well while the sun set.
I even managed to read a little before going to sleep, the days before I always was too destroyed.
The surrounding sounds truly made us feel like sleeping in the jungle but it actually was nice and we slept well.
---
Day 6
While the nights before were a bit chilly, this one was actually cold. I woke up freezing a little, while Jerome was already up. His sleeping bag was in the lighter side, so he hardly got any sleep. Not even wrapping the thermo foil around himself seemed to help.
So we had an early breakfast with coffee and all, hung our tents up to dry and warmed ourselves in the rising Sun.
Upon packing up we also realized that our camp spot was absolutely tic-infested.
Luckily none of these shitty little creatures managed to poke holes into our sexy bodies
Our aim for the day was the origin of the river Elbe which springs at 1386m of altiude.
I had doubts about such a heavy uphill with my knee situation but I popped 2 Ibuprofen and gave it a go.
The climb started gentle but got harder and harder as we advanced. Towards the end it got extra punishing since the path was layed out with big, bumpy slabs of stone.Lots of pushing was required towards the end. We were rewarded with a breathtaking landscape full of surreal rock formations. The spring turned out to be largely buried under snow.
For a late lunch we sat down next to it and ate up everything we had left.
Unfortunately there was not much time to rest as it was getting colder with the sun slowly setting and we had tofind shelter for the night.
The way down was insanely fun! We rode a steep mountain road with pretty damaged tarmac. And we had it all to ourselves! Zero traffic! All this topped off by an eye-watering landscape.
We found a hotel in the middle of nowhere. It was run by an elderly couple who also lived there. She had a hard time walking and he seemed blind on one eye. It seemed like they had their difficulties to run this huge place with the charming soviet era interior all by themselves.
They were really sweet, we felt right at home. The smell of the place even reminded Jerome and of childhood at his grandparents place.
We had beers and some soup and went to bed highly satisfied. Amazing how wasted one can get from 2 beers after such a day.
---
Day 5
We started slowly with a nice breakfast after which I took 2 Ibuprofen.
It turned out to be a beautiful ride with lots of gravel and country roads, all framed by the picturesque landscapes of Sächsische Schweiz. Especially the rock formations there were spectecular.
One thing that I really like about this travel mode is the multitude of little things you get to see. When you dont go too fast you can get so many interesting glimpses into peoples lives. All while hearing and smelling everything.
Not really possible by car/train/plane
We crossed the border to Czech Republic in the middle of the woods, there was just a small sign informing us of the fact.
My knee seemed to play along and I was really glad that I changed the cassette last minute, the gear range allowed for
pedaling with way less pressure.
We found a nice camp spot on a meadow just outside a village. We scared away a young deer, had dinner and went to sleep with the setting sun.
---
Day 3 & 4
Jerome called a few shops to investigate if they are savy about hydraulic disc brakes.
On the way to the chosen shop my knee went from seemingly ok to bad within the 6km to the bike shop.
I asked a dude outside the shop about a doc. He recommended a physio therapist nearby.
After Jerome left his bike at the shop with an estimated waiting time of 1h we went to see the physio. I was super lucky to get an appointment right away.
The therapist suspected that I did something to my Meniscus while (over-)stretching. She massaged my knee a bit, put some support-tape around it and recommended 1-2 days of rest, and then continuing easily while taking some Ibuprofen. In my place she said she would not cancel the trip.
Slightly relieved we went back to the shop to pick up Jeromes bike.
The bike was not ready yet, which was good because while waiting I decided to install a cassette with a wider gear-range in order to be able to ride with less pressure on my knee.
The folks at the bike shop were so nice to let me do the cassette swap myself using their tools.
I sent my old cassette home by mail and we decided to try to get to a camp site in Bad Schandau and let my knee rest there.
The 40km along the Elbe river seemed managable, going slow with enough breaks.
In the end I barely made it, pedaling with only one leg for the last couple of km. Clickies ftw!
We pitched our tents on a cozy little campsite and went to sleep early.
zzzZzzZz
We woke up to heavy and persistent rain. Not a day for riding anyway, so we felt lucky in a way.
I took some Ibuprofen after breakfast, then we spent the das doing classicly touristy stuff around the area.
We went around with the historic tram, checked out the old town of Bad Schandau, the ruin of a mill and a waterfall.
In the evening we had some good food with a bottle of fine wine and went to sleep early.
Despite the physio therapist being positive I went to sleep wondering if the trip might be over before it even started.
---
Day 2
We repacked our things in a more sensible way, so it took ja about 2h before we took oft.
Tech problems appeared on Jeromes bike. He realized that he lost chain ring bolt and that his rear brake is leaking.
We decided to call it a day earlier than planned and camp close to Dresden in order to find a capable bike shop the following day.
On the last 10km to the campsite my knee started to act up. At first it just felt somehow unconfortable but it gradually built up to hurt upon pedaling harder. I had had some knee problems about 2 years prior, slightly worried I went to sleep.
---
 Day 1
Finally we were off to this trip I anticipated for so long. Anticipated it while trying not to get charged with expectations!
I had layed out a route on komoot but I wanted to keep an element of drifting to this trip. So I avoided setting any fixed dates and I did not plan on doing any fixed stages, leaving as much room as possible for the trip to be shaped by chance.
Thankfully my homie Jeromie was on the same page about this travel mode.
And we put the concept into action on the first day already when we met 2 other bike travellers who made us deviate from our planned route.
We set up camp for the first night outside between some trees close to a small forrest. Right before going to sleep I spotted a pack of wild boars running away. Subsequently I found it hard to fall asleep, lots of comotion in the dark.
Deer or boar?
I woke up from terrifyingly sounding animal calls from the woods. I suspected boars but later learned that young deer sound like that. I would describe it as a dog-human-hybrid-like noise.
Seen a huge owl land on a branch above me while scanning the dark with my flashlight. We looked at each other for a moment, then it took off in complete silence. Amazing!
Later I woke up again because something seemingly rather big was nibbling on the foot-end of my tent.
After shouting to piss off I heard something with hooves running away, probably a deer. I finally found proper sleep when it was almost dawning.
---